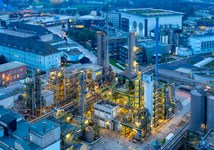 © Borealis
Program goals include improving plant efficiency and achieving better environmental performance by installing and implementing state-of-the art equipment and processes.
This latest round of investment follows on the heels of the "Linz Fitness" program, in which EUR 145 million were invested in plant modernization between the years 2010 and 2014.
 "Linz is already a role model for other Borealis fertilizer facilities when it comes to production reliability and performance," explains Mark Garrett, Borealis Chief Executive. "What is more, it is also a crucial component of our global growth strategy in fertilizers.
The largest Borealis fertilizer production facility in Europe is in Linz, which is also the center of melamine production.