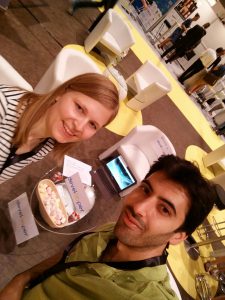 © www.derbrutkasten.com
Ammar Al Khatib first arrived in Austria from Syria in the year 2015. His co-founder, Kathrin Treutinger from Germany, also worked in a variety of places before ending up in Innsbruck. She only wants refugees to serve as IT specialists in her young business enterprise.
A for-profit startup, not a project to help refugees
Her startup called "Develooper", which was first entered into the company register in July, creates websites and only employs refugees as IT technicians. She developed the idea together with co-founder Ammar Al Khatib, who is a refugee himself from Damascus, Syria. However, Treutinger does not consider her startup to be a refugee project. "I could do something else. But I invested in this idea and took out a loan. We are working to make a profit." In other words, just like any other startup, the objective is to earn money.
From a low-budget website to a startup
It all began at the end of 2015. Treutinger, who works at the University of Innsbruck in the field of entrepreneurship, organized Skinnovation, a pitching event. "We needed a website and the budget at our disposal was very limited. I went to the refugee hostel and asked if anybody could help me", Treutinger explained. Five IT specialists declared their willingness to participate, and she ended up hiring two of the IT technicians. In the meantime, one of them has joined another IT company. But the chemistry with the second one, namely Al Khatib, was just right. Following the successful launch of the first website, it was obvious to them that they should continue working in this field.
Develooper as a springboard to the job market

Develooper is also designed to serve as a springboard for refugees to enter the job market. The startup aims to expand to a staff of five people within its first year of operation. Develooper can offer a three-month unpaid internship to refugees who have not been legally granted the right to remain in the country and are thus not allowed to engage in paid work. This work comprises a good addition to their curriculum vitae.
Already clients from three countries
In any case, the prospects of the startup quickly expanding its workforce are good. Demand for the company's services is strong, and several projects have already been implemented. Their diversity and internationality are impressive. Websites have already been created for a startup event in Berlin, a Swiss firm specializing in the Internet of Things and an artist in Innsbruck within the short time since the company was founded.   

Source: www.derbrutkasten.com