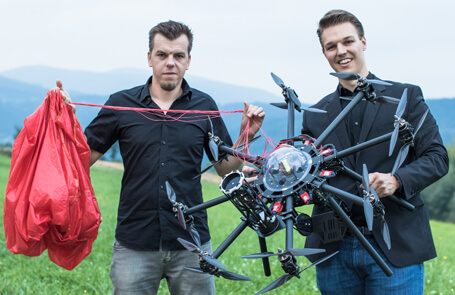 © Technical University Graz
For this reason the students developed a rescue system for drones which are in danger of crashing. The system is designed to automatically identify a crash, and release a parachute. The drone will become slower and thus be brought safely to the ground, minimizing injuries and material damage.
At the European Satellite Navigation Competition organized by the European Space Agency ESA, the entry by the two young entrepreneurs recently won a prize on behalf of Austria.
The two inventors were supported by the academic startup center Science Park Graz. The prototype of the product for which a patent application has already been submitted is expected to be finished by the end of 2016. An "intensive phase test flights" is schedule for the coming year. The search is still underway for investors and cooperation partners.
Service: http://sciencepark.at/unsere-firmen/783/drone-rescue-system