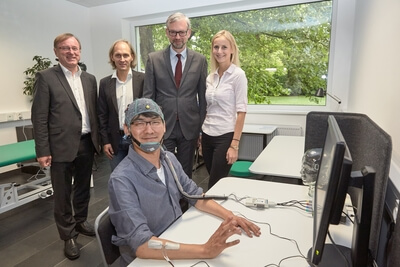 © g.tec
New therapy "recoveriX" exploits the power of thought
recoveriX is a novel and promising therapy platform which pursues totally new paths. The power of thought and the unique combination of three rehabilitation approaches are the key to stroke therapy. Whereas the musculoskeletal system is often impaired, the patients retain their power of imagination.
The brain practically learns new ways to once again carry out arm or leg movements on its own. This method can be used for acute strokes, or also in case of strokes which took place a long time ago. An individual training plan is developed tailored to the extent to which the patient is impaired.
MindBEAGLE enables coma patients to communicate
In addition to recoveriX, g.tec is also working on a method to assess the awareness of coma patients. The therapy called "mindBEAGLE" is based on the latest findings from the field of neurotechnology and the use of brain-computer interfaces. This method is used on patients who are in a coma or in a vegetative state in a minimal state of consciousness following grave brain damage or suffer from a completely locked-in state. The process can be applied in hospitals, rehabilitation facilities or even on patients directly who are being cared for at home.   
The company, whose customers in the past have primarily been universities and research facilities, now wants to use its latest development to target a larger market.