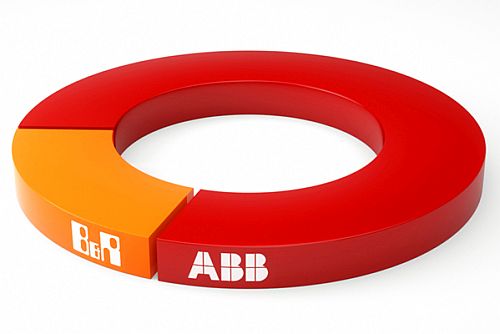 © ABB
B&R, founded in 1979 by Erwin Bernecker and Josef Rainer is headquartered in Eggelsberg, Austria, employs more than 3,000 people, including about 1,000 R&D and application engineers. It operates across 70 countries, generating sales of more than $600 million (2015/16) in the $20 billion machine and factory automation market segment. The combination will result in an unmatched, comprehensive offering for customers of industrial automation, by pairing B&R's innovative products, software and solutions for modern machine and factory automation with ABB's world-leading offering in robotics, process automation, digitalization and electrification.
Through the acquisition, ABB expands its leadership in industrial automation and will be uniquely positioned to seize growth opportunities resulting from the Fourth Industrial Revolution. In addition, ABB takes a major step in expanding its digital offering by combining its industry-leading portfolio of digital solutions, ABB Ability, with B&R's strong application and software platforms, its large installed base, customer access and tailored automation solutions.
B&R has grown successfully with a revenue of 11 % over the last two decades. Revenues more than quintupled since 2000 to more than $600 million (2015/16). The company has a rapidly growing global customer base of more than 4,000 machine manufacturers, a proven track record in automation software and solutions and unrivaled application expertise for customers in the machine and factory automation market segment.
Austria benefits as technology and business hub
With this acquisition, ABB becomes the largest industrial automation player in Austria. ABB has operated in Austria for more than 100 years. With the strong future role, B&R and its headquarters in Austria will play as part of ABB, Austria, particularly Upper Austria, will benefit. The planned expansion of the R&D and production activities in Eggelsberg and Gilgenberg will strengthen Austria's high-tech industrial landscape.
About ABB                                                         
ABB is publicly traded on the Zurich Stock Exchange and has a market capitalization of 51.6 billion Swiss francs. The company employs a staff of 132,000 people, generated revenue of USD 33.8 billion in 2016 and reported a net profit of USD 1.9 billion. Bernecker & Rainer Industrie-Elektronik GmbH increased its balance sheet profit in the 2015/16 financial year from EUR 217 million to EUR 235 million.
About B&R
B&R is an innovative automation company headquartered in Austria, with subsidiaries throughout the entire world. As the industry leader in industrial automation, B&R combines state of the art technologies with advanced engineering. B&R makes perfect comprehensive solutions in machine and plant automation, drive and control technology, visualization and integrated safety technology available to customers in different industries.