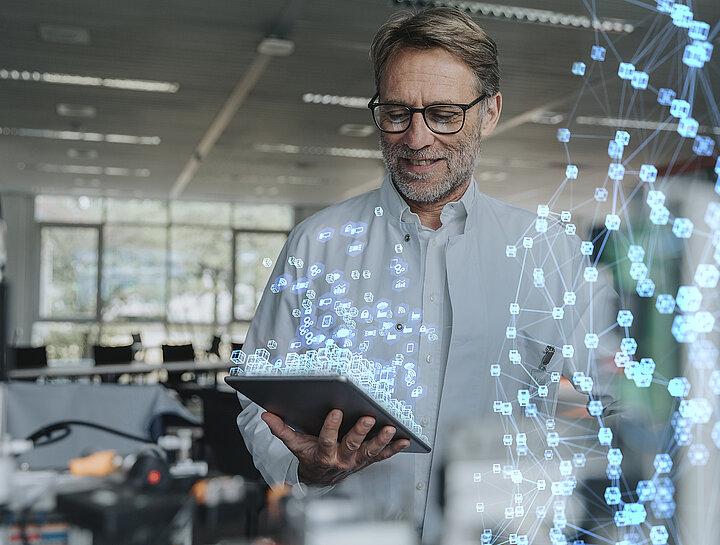 Industry
Cross-industry innovation
Key cross-industry innovations are defining the economy of tomorrow. Austria is at the cutting edge of developments in the fields of artificial intelligence (AI), cybersecurity and quantum technology.
Contact us
Artificial intelligence –
this is what tomorrow's
economy will look like
Artificial intelligence is a key area of successful business operations, something Austria recognised a long time ago. Companies in Austria offer an optimal basis for the development and innovative use of AI in various sectors, for example Industry 4.0.
Austrian firms are not only developers but also users of innovative AI technologies. The country has pitted itself against international competition for decades, both in terms of production and service. For this reason, it has always relied extensively on digitalisation. This is now paying off also with regard to artificial intelligence.
Research on AI has a long tradition in Austria, for example in the fields of logical systems, neuronal networks, robotics and systems capable of understanding speech. Naturally, Industry 4.0 represents the top priority, for instance in predictive maintenance. The most important AI research fields in Austria include robotics and autonomous driving, in addition to knowledge-based and learning systems. Austrian research has made pattern recognition, image and video analysis as well as language-processing systems a top priority.
Did you know...

Professor Sepp Hochreiter is one of the world's leading experts in the field of artificial intelligence. He already made important contributions as early as the 1990s, laying the foundations for voice recognition technology which is in use today across the globe. He and his team conduct world-leading research in the field of deep learning at the Artificial Intelligence Lab of the Linz Institute of Technology (LIT), facilitating the industrial use of artificial intelligence. Companies such as Google, Amazon, Audi and Janssen are applying his findings.
...that fundamental AI research for speech recognition technology used globally today actually originated in Austria?
Autonomous Driving & Flying

Everything in a nutshell: facts, tips and contact points for your questions on research and development.
Cyber security
Security in the digital world
Cybersecurity is of great importance for the economy and overall prosperity. Austria has made it a clear-cut priority. The government, industry and academic are working together to meet this challenge. Some 35 companies in Austria currently offer advanced cybersecurity solutions for the public sector, critical infrastructure, industry and companies. The growth rate is 6-9% up until 2023.   
The fact that Austria is internationally recognised as a high-tech location for cybersecurity is also due to the know-how of the Austrian Institute of Technology (AIT) and its reputation in the European research landscape. The research and business communities are setting new standards with Austrian IT security solutions, contributing towards preserving future global competitiveness as well.
Quantum technology
Innovation from Austria
Austria is one of the top international business locations for quantum research and technology. In order to strengthen its position in this future-oriented field, the Austrian Federal Government supports research and development as a means of unfolding new potential applications. Accordingly, the country in its role as a leading voice in quantum technology will increasingly become the go-to business location for future-oriented companies.
The most recent example is the newly-opened research laboratory in Villach, where Infineon tests industrially produced quantum chips in short cycles, namely days instead of weeks. This represents a huge step on the path to developing and producing marketable quantum computers. However, it must be noted that quantum research has a long tradition in the country: The Austrian quantum physicist Anton Zeilinger who lives and conducts research in Austria has long been a famous figure in the scientific community for his experiments on quantum entanglement.
Did you know...

A fibre optic network i.e., the Austrian Quantum Fiber Network (AQUnet) is now being built with the aim of becoming the model for a possible future quantum Internet.
...that quantum technology is one of Austria's strongest scientific fields?
Crayon 

By establishing the Center of Excellence for Data & AI in Vienna, we succeeded in positioning the Austrian facility as a crucial factor for the future for our further international growth.

The entire success story is available here.
Austria offers an attractive option for international talents thanks to its central location in Europe and high quality of life.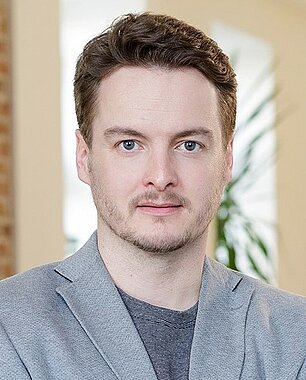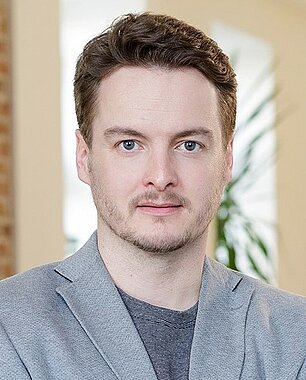 We simply get it done – for you!

Are you planning to hit the ground running in future areas such as AI or quantum technology? The ABA will help you in the search for the ideal partners and possibilities in Austria.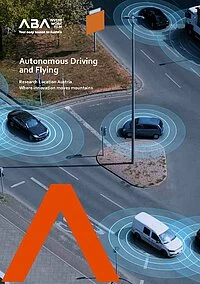 Autonomous Driving and Flying
Research Location Austria.
Where innovation moves mountains.
Back to main navigation