Blockchain Technologies: Austria's Contribution in the Global Race
What is at stake is nothing less than future supremacy when it comes to one of the most important commodities of our time, namely data. The blockchain technology in all its different facets has an enormous potential for disruption. However, regardless of how revolutionary it may be, little has been discovered yet about its true potential. How blockchain will find its way into our everyday lives is still completely unclear and variable. And this is precisely where an opportunity can arise. Other markets are also not particularly well developed. With the right investments in business and research projects, it is still not too late to lend a European touch to the tech market of the future.
Interdisciplinary projects as innovation drivers
Blockchain-based decentralized technologies can be applied to so many different areas of our daily lives. For this reason, their real potential for disruption cannot be seen from a single perspective. Interdisciplinary projects in which business cases are given as much consideration as the necessary basic research are required in order to correctly assess this potential. Gratifyingly, political decision makers in Europe have already come to the same conclusion. For this reason, the world's largest blockchain competence center was established in Vienna last November. The Austrian Blockchain Center (ABC) is designed to bundle the extensive interdisciplinary competencies at one place. A total of 21 scientific institutions, 54 companies and 17 associates, including 16 international facilities and firms, are involved in ABC. The center's research priorities range from Industry 4.0 and the Internet of Things, the finance, energy and logistics sectors to applications in the public sector and administration. The objective of ABC is to promote the scientifically sound (further) development of applications based on blockchain technologies.
Implementation status of blockchain technology
A survey carried out among ABC's corporate partners shows that Austrian companies are extremely interested in incorporating blockchain technologies in their business processes.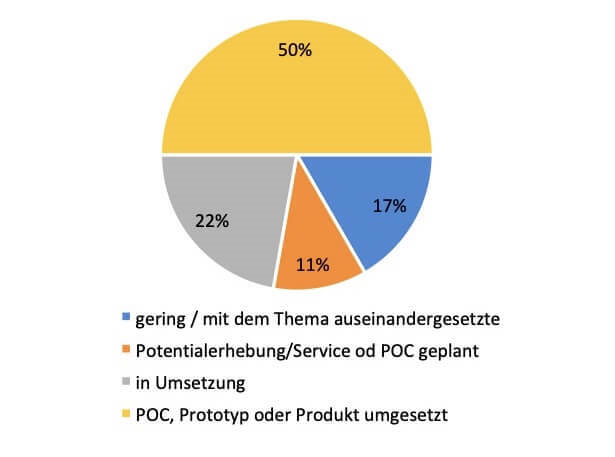 The next generation 
At present it is not possible to predict where the journey will ultimately take us with 100% accuracy. The prevailing blockchain technologies are not exactly designed in a user-friendly manner and are thus not yet suitable for the mass market. However, this could change with the next blockchain generation which will soon gain a foothold. The application of blockchain technologies will become increasingly intuitive in the foreseeable future and become increasingly part and parcel of our day-to-day lives. Compared to the development of the Internet, we are currently at a time with blockchain like the one shortly before the first browser was developed.  
In order to avoid missing this point in time, as was the case with the Internet, decision makers in Europe have to take appropriate measures in the coming years, for example expanding the digital infrastructure based on a comprehensive full-coverage mobile broadband network. Moreover, a research and business environment must continue to be created as the basis for freely developing new technologies. A further step is educating suitable specialized employees. This will make it necessary to reform courses of study to include a stronger focus on blockchain technologies if there is in fact the desire keep pace with international developments. In order to meet future needs, it will be necessary to targetedly recruit specialists abroad. In this case, business location advantages such as the location of the Austrian Blockchain Center in the heart of Europe is certainly an asset.