By industry
Life sciences
Biotech, pharmaceutical industry and medical technology: The life sciences sector in Austria is characterised by outstanding networking, international research and a growing corporate landscape.
Contact us
Austria: Top centre
for life sciences
Austria is one of the most important centres of the Austrian life science sector: SMEs and many international corporations. A total of more than 900 companies from the areas of biotech, pharmaceutical industry and medical technology, including major players such as Boehringer Ingelheim, Novartis and Ottobock. There are many activities, particularly in the Austrian areas of strength that are cancer research, gene therapy research and medical products.
The high degree of networking between producers, suppliers and service providers makes Austria an excellent life science location with international research. With seven per cent of GDP, the life science sector also makes a key contribution to the national gross value added and is responsible for more than 60,000 highly qualified jobs.
Austria as a location stands out because it offers not one but several advantages: an excellent infrastructure (including laboratory spaces) and top qualified, motivated employees. The availability of data and donors makes Austria an ideal location for medical research. This is supplemented by research bonuses and a strong funding landscape: In 2022, Austria is launching a new funding programme with a funding volume of EUR 50 million for pharmaceutical and life science companies in which clinical trials will also receive funding.
3.26 %
of GDP is the research ratio in Austria
1000
companies with 60,000 employees in the areas of biotech, pharmaceutical and medical products
24300
researchers at 55 research facilities
77000
life sciences students at 17 universities, 13 universities of applied science and 25 non-university research centres
Life sciences in Austria
An ecosystem full of possibilities
01

Hub for companies, start-ups and research

Companies and start-ups – in the therapeutic, medical technology and diagnostic field – form a dynamic environment for research. Every second biotech company is active in the hotspot Vienna. Important focus areas are oncology, neurology, vaccines and immunology as well as precision medicine and e-health.

02

Investment in innovation

The life sciences sector is by far the most innovative. It has the highest research ratio (14.4%) and accounts for 2.8% of GDP. Every year, Austrian life science companies invest almost EUR 1 billion in R&D. That is almost every sixth euro that is invested in R&D in the private sector.

03

Health system of global repute

A great health system, world-renowned clinics, excellent research facilities: Austria's location advantages for the medical technology sector are crystal-clear. More than 550 medical technology companies focus in particular on electromechanical medical technology, software development and digital health.
04

Hotspot of cancer research

For decades, a pivotal goal of research has been to beat cancer. The Comprehensive Cancer Center (CCC) Vienna of the MedUni Vienna and of Vienna General Hospital networks all professional groups of these two institutions. The CCC thus brings together the competent, interdisciplinary medical care of cancer patients with clinical research and basic research as well as teaching at the highest academic level.

05

Success through networking

Creative, interdisciplinary ecosystems are a secret to Austria's success. Top researchers and serial entrepreneurs work side by side. Clusters and centres of competence with regional focus areas promote collaboration between academia and industry. These include LISAvienna, the Vienna BioCenter, the Life Sciences Cluster Tirol, the Human Technology Cluster Human.Technology.Styria and the Technopol Krems.

06

Pooled expertise

Numerous universities, universities of applied science and non-university research facilities – totalling 55 – are active in Austria in the life sciences sector. More than 21,000 employees work in research and training; around 67,000 students are young talents for this field of the future. A total of EUR 1.55 billion is the life science budget of the research facilities. These boundary conditions are visible and tangible – through research that grabs the headlines.
Did you know...
For years, the MedUni Vienna has been the global leader in the reconstruction of extremities. In 2011, the first patient received a "bionic hand" after an accident. Since then, the range of treatments to restore lost body functions has been extended to include many revolutionary approaches.
...that the General Hospital is the 4th largest hospital in the world?
The ABA makes it easy
Are you looking for cooperation and research partners or do you want to request funding for research?
We bring you together with companies and research centres and accompany you through the application process.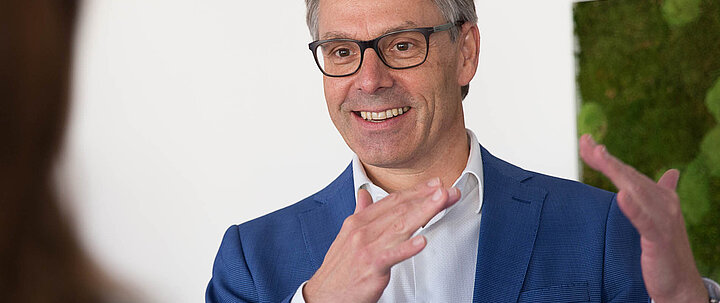 Back to main navigation