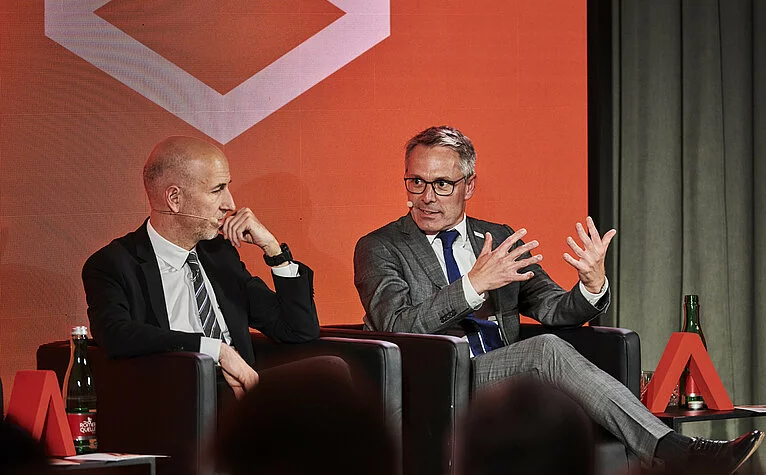 The Austrian business location agency ABA turns 40
On 29 September 2022, the Austrian Business Agency and Federal Minister Martin Kocher invited guests to the palace Palais Berg at Vienna's Schwarzenbergplatz Square on the occasion of its 40th anniversary. The spotlight was on 40 years of Austria as a business, labour and film location as well as talks about the future opportunities and challenges of the Austrian business location.
Following the official welcome by Florian Frauscher (department head, Federal Ministry of Labour and Economy) and René Tritscher (Managing Director, ABA), the study commissioned by ABA entitled "Volkswirtschaftliche Effekte internationaler Investitionen und Fachkräften auf den Standort Österreich" (Economic effects of international investments and skilled workers on Austria as a business location) was presented. This was the first time that a study documented the significance of economic effects generated by the activities of international companies, film productions and skilled workers in Austria.
In this regard, Martin Kocher, Federal Minister of Labour and Economy, pointed to previous successes with expansion investments and the good framework conditions Austria features as a business location. Startup-Grande-Dame Selma Prodanovic also highlighted the ideas of the innovative startup scene in Austria in the ensuing discussion.
The subsequent panel discussion and networking gave everyone even more to talk about.
As a subsidiary of the Federal Ministry of Labour and Economy (BMAW), the Austrian Business Agency (ABA), which has now been in operation for 40 years, makes Austria attractive to international companies, top talents and film productions. With its three business areas INVEST in AUSTRIA, WORK in AUSTRIA and FILM in AUSTRIA, ABA consults and supports international companies, skilled workers and film productions at no cost regarding all issues relating to the business, research and work location as well as to Austria as a film location. >> We simply make it easy.
Impressions
This was ABA's 40th anniversary celebration at Palais Berg
Thank you for coming!
Back to main navigation