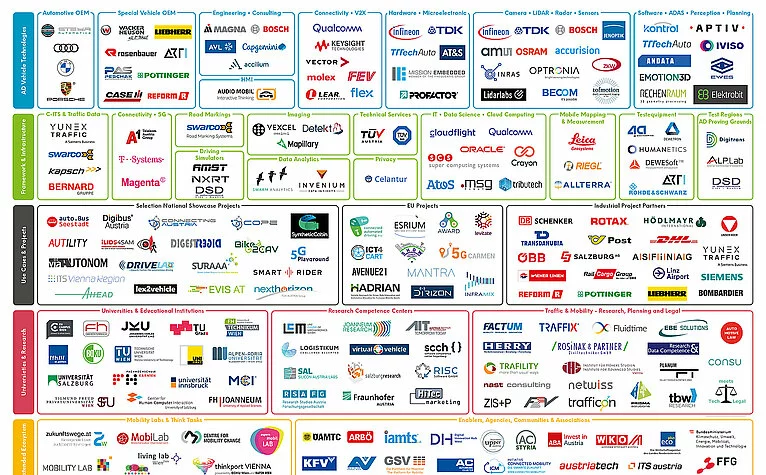 Innovation and digitalisation
Research & development
Austria's Autonomous Mobility Ecosystem Landscape
The project was realized together with students of the Global Sales and Marketing program at the Steyr University of Applied Sciences under the direction of Harald Hammer and provides a structured overview of the entire Austrian ecosystem in the field of autonomous driving. The "Autonomous Mobility Ecosystem Landscape" covers close to 200 companies, institutions, research and educational facilities as well as current research projects and use cases.
Goals and benefits
The map serves as a compass for quick and easy orientation in the jungle of versatile technologies and possible applications. It is a networking tool for potential cooperation partners for funding and research projects. "The Landscape" acts as a springboard for more quickly advancing the topic of autonomous driving in Austria. It visualizes and organizes the entire ecosystem around Autonomous Mobility in Austria. The map serves as a source of information for politicians, interest groups, the supplier industry, users and international clusters as well as cities and regions interested in autonomous mobility and transport solutions.
"The goal of the Landscape is to increase awareness of the Austrian ecosystem in the field of autonomous driving beyond the country's borders. In this way, we aim to further promote Austria as a business location in this field and to attract both national and international project partners for the research into and implementation of autonomous vehicle technologies," emphasizes Eva TatschlUnterberger, CEO of DigiTrans GmbH.
Navigation aid
For Automotive Cluster Manager Florian Danmayr, the Landscape is the logical continuation of the path taken: "About five years ago, the Automotive Cluster began to focus on the issue of automated driving. A growing ecosystem has been created due to the relevance of the topic, working on technologies for automated mobility. The Landscape is intended to be a navigation aid to find partners and show the prevailing dynamics in this field."
Entire value chain
The "Autonomous Mobility Ecosystem Landscape Austria" maps all companies and institutions along the entire value chain that focus on autonomous mobility in the narrower and broader sense, or which participate in a related project. These include suppliers, OEMs, technology developers, users as well as research and educational institutions, primarily for road and rail transport. Unmanned aviation and shipping as well as automated intralogistics applications were excluded as search criteria.
Clustering logic
Companies were divided into five main categories: AD Vehicle Technologies (developments in and on the vehicle), Framework & Infrastructure (AD developments and infrastructure outside the vehicle), Use Cases & Projects (AD projects and use cases as well as participating companies), Universities & Research (projects and participations of research institutions and universities), and Extended Ecosystem (AD project participation/funding by organizations and associations).
Autonomous Driving and Flying »Made in Austria«
All information in compact form: facts, tips and contact points for your questions on research and development.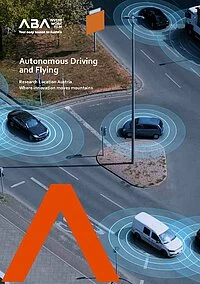 Autonomous Driving and Flying
The location for your research centre
The environment for your success
Back to main navigation