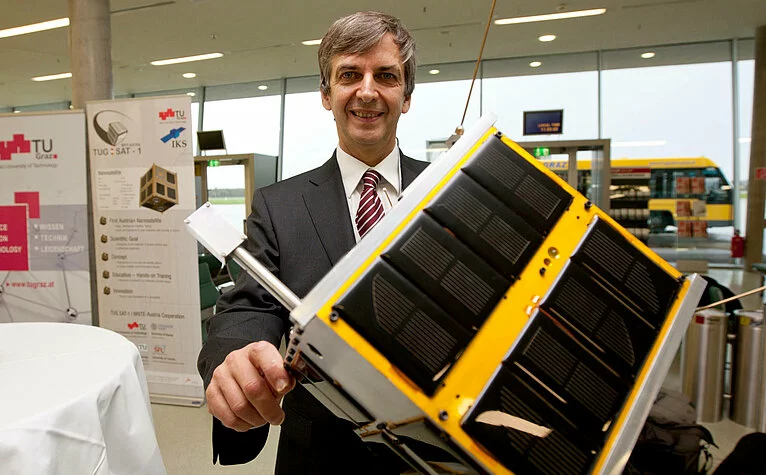 Birthday of Austria's first satellite
Developed and built at the Graz University of Technology, the TUGSAT-1 turned Austrian into a space nation when it became the first Austrian satellite to be launched into orbit ten years ago. On 25 February 2013, TUGSAT-1 made its journey into space aboard a launch vehicle that took off from Satish Dhawan Space Center in India. It travelled alongside its sister satellite UniBRITE from the University of Vienna, which was released just a few minutes after TUGSAT-1.
The planned mission duration of the satellite was only conceived for a period of two years. For this reason, TUGSAT-1's longevity has far exceeded original expectations. The satellite was developed and built at the Grau University of Technology by a team led by Otto Koudelka, the now retired head of the university's Institute of Communication Networks and Satellite Communications.
The large telescopes such as Hubble now look extremely far into space and can record images of extremely faint objects. In contrast, TUGSAT-1 with its 17cm telescope is designed to look at nearby stars, which, as they are so bright, would result in overexposed images if captured by Hubble or James Webb. TUGSAT-1 is still providing data today, but it is beginning to show its age. The satellite is now nearing the end of its useful life and then it will be subject to a controlled shutdown. On balance, five Austrian satellites are currently orbiting the Earth, and a sixth one is planned to be launched into space in 2023.
Back to main navigation