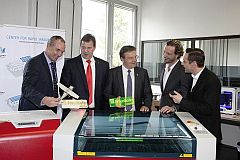 © DieFotografen
In any case, Western Austria is "interesting" for Fraunhofer, which generates 25% of its revenue there. Moreover, the area boasts well-developed industry and a good infrastructure. In addition, Destination Wattens, in which there is a private-public partnership between Swarovski and the Municipality of Wattens, approached Fraunhofer.
The first task will be to sharpen the issue of "digital transformation of industry" and to establish its own business area in Tyrol. The basis for success will be the close cooperation with the business community and involving the University of Innsbruck. The facility is expected to have eight to ten employees after the first three years.
Fraunhofer Austria Research GmbH was set up at the end of 2008 as the first European subsidiary of the German Fraunhofer Society, and operates facilities in Vienna (production and logistics management) and Graz (visual computing).