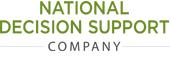 © NDSC
In 2014, NDSC concluded an exclusive relationship with the European Society of Radiology (ESR). The objective is to develop unified European guidelines for medical imaging. Together NDSC and ESR are working on the "ESR iGudie", a support system for clinical decisions, for example with evidence-based information and the focus on patient orientation. This is designed to avoid unnecessary X-ray exposure.
Against this backdrop, NDSC announced the formation of NDSC Europe GmbH, a dedicated European headquarters. Responsible for sales, contracting and support to the European and Middle East markets in order to ensure that providers such as laboratories can deliver the ESR iGuide into their clinical practice.
The American company National Decision Support Company offers solutions enabling physicians, laboratories and health care companies can integrate evidence-based guidelines aligned to national standards into their work processes and improve them. The company focuses on imagery (e.g. patient management for imaging institutes), laboratories and pathology as well as health care companies (e.g. knowledge platforms structuring medical know-how to make it easier to understand).