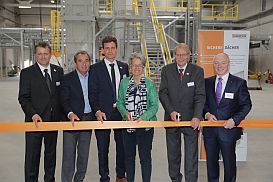 © Bauder / Daniel Hinterramskogler
As a result, Lower Austria is now the site of Europe's most advanced manufacturing facility for bituminous membranes as well as new office and storage space and a superbly equipped training center, all constructed at a cost of almost EUR 30 million. Some 30 employees work in Europe's most state-of-the-art production facility for bituminous membranes.  
Bauder ranks among the most important European manufacturers of roofing systems and products for sealing, insulation, greening and generating energy. The company generates annual revenue of EUR 525 million and employs a staff of 885 people. Up until now the family-owned company which dates back close to 160 years has manufactured its products at the main plant in Stuttgart, Germany as well as in five other factories. The location in Lower Austria is optimal to drive its expansion to South East Europe and to more effectively supply the Austrian market.