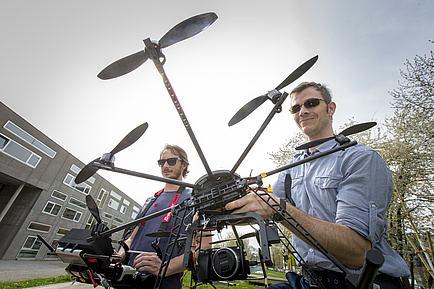 © TU Graz / Lunghammer
The "DJI Developer Challenge" is sponsored by the Chinese drone developer DJI in cooperation with Ford and the United Nations Development Program (UNDP). The team of students from the Institute for Computer Graphics and Vision at the Graz University of Technology managed to reach the finals as one of the best ten teams out of the original 100 contestants. The competitors of the Austrians include a team from Stanford University in California and several Chinese teams.The finals will be held in Rome, New York at the end of August. The team which comes in first will win USD 100,000 in prize money.
Aerial and rescue missions are realistic applications for UAVs. Accordingly, the drone competition will pose relevant challenges. At the live demonstration in Rome, the drone programmed by the participants should search for victims in a testing area measuring 50x50 meters. The challenge involves obstacles which the drones have to evade during their flight at an altitude of about two meters. The main task focuses on the semantic interpretation of the camera shots and flight control.