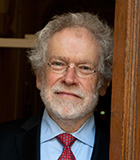 © ÖAW
Encryption keys are to be transmitted from satellites to ground stations on the Earth with the help of quantum physical phenomena, and thus create a model for completely tap-proof data communications over distances that have never been achieved before. At the same time, this would comprise "decisive steps in the development of a quantum Internet in the future", says Anton Zeilinger, the Viennese experimental physicist and President of the Austrian Academy of Sciences. 
Secure technology
Project Manager Pan Jian-Wei, who did her doctorate with Zeilinger at the University of Vienna, describes the method as "revolutionary," adding that "quantum-coded information is completely secure, and even the best computers hack it." QUESS, whose technology is designed to help protect against cyber crime, should become part of a quantum information network which currently has a length of 2,000 kilometers, from Peking to Shanghai. In addition, China is planning to establish a quantum satellite system, in order to be able to communicate around the globe by the year 2030. 
Extension of distances of entanglement
Zeilinger and his team have repeatedly extended distances of entanglement over recent decades. After conducting laboratory tests, they sent the entangled photos through cellar passages in Vienna's Hofburg Palace, through sewage systems below the Danube River, and sent them through the atmosphere across Vienna, and the still record distance of 144 kilometers between two of the Canary Islands.
However, in transmissions over long distances, the researchers encounter limits due to the fact that the Earth's atmosphere too strongly interferes with the light particles. For this reason, the experiments have been transferred to outer space. The photons sent from a satellite towards the Earth only move a few kilometers through the dense atmosphere and there is correspondingly little interference.
The Austrian scientists have put receiving stations at the disposal of the experiment in Europe. These include the "Satellite Laser Ranging Station" in Graz-Lustbühel operated by the Space Research Institute of the Austrian Academy of Sciences and the "Hedy Lamarr Quantum Communication Telescope" on the roof of the Institute for Quantum Optics and Quantum Information (IQOQI) of the Austrian Academy of Sciences in Vienna.
Service: CCTV program on Youtube: https://www.youtube.com/watch?v=9ES99s8CWfM