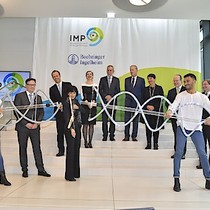 © IMP
Philipp von Lattorff explains that Boehringer Ingelheim, in its capacity as a family-owned company, has the financial means to support basic research which may first lead to the development of new drugs in the long run. "IMP is the most important investment of Boehringer Ingelheim in basic research", says the Managing Director of Boehringer Ingelheim RCV.
About IMP
The Research Institute of Molecular Pathology (IMP) in Vienna is a basic biomedical research institute largely sponsored by the international Boehringer Ingelheim group of companies With over 200 scientists from 40 nations, the IMP is committed to scientific discovery of fundamental molecular and cellular mechanisms in order to provide detail knowledge of complex biological phenomena. The IMP is a founding member of the Vienna Biocenter, Austria's beacon in the international elite of top molecular-biological research.
About Boehringer Ingelheim Regional Center Vienna
The Boehringer Ingelheim Regional Center Vienna is responsible for Boehringer Ingelheim's business with prescription drugs and animal medicines in Austria and over 30 other countries in Central and Eastern Europe, Central Asia, Switzerland and Israel. Moreover, the entire clinical research of the region is managed from Vienna. Vienna is the center for cancer research and also a location for biopharmaceutical research, development and production in the Group. Boehringer Ingelheim is also involved in basic research and is represented in this field by the Research Institute of Molecular Pathology Vienna (IMP). Thus, Boehringer Ingelheim is among Austria's most research intensive pharmaceutical companies. The Regional Center Vienna generated net sales of EUR 760.2 million in the business year 2015 and employed 3,403 employees in the Central and Eastern European region, 1,501 of whom are in Austria.