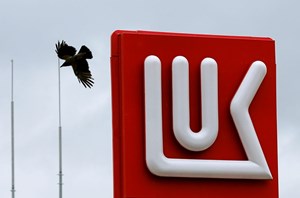 © LUKOIL
The new LUKOIL GENESIS motor represents another product innovation from the company's European headquarters in Vienna. Last year LUKOIL Lubricants opened a site in the Lobau area of Vienna. The lubricant production facility was expanded to become one of the most advanced in Europe. The core elements of the expansion are swimming oil transfer stations, several additional storage tanks as well as the conversion of existing storage tanks to production tanks. This not only served as the basis for doubling capacities but also provided the company with the ability to load and unload ships.
About LUKOIL Lubricants
LUKOIL Lubricants International Group is the international lubricant division of the largest private Russian oil company. In addition to its production sites in the Vienna Lobau area, the Group has strategic holdings in Germany, Finland, Romania, Bulgaria, Belarus, Ukraine, Turkey, Dubai, Kazakhstan and the USA via LUKOIL Lubricants International Holding GmbH. The parent company LUKOIL boasts the largest privately-owned oil reserves, thus ensuring the reliability of supply for all markets around the world.
More information on LUKOIL is available at www.lukoil.lubricants.eu.