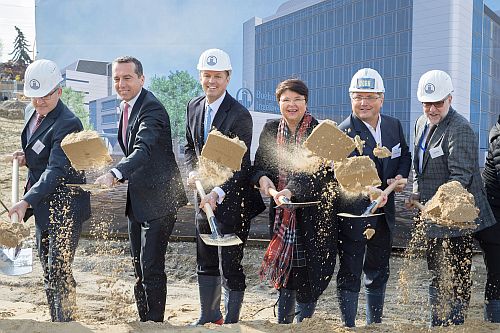 © Boehringer Ingelheim
The expansion drive represents the largest single investment in the history of the company, and the largest corporate investment in Vienna since the construction of the General Motors factory in Aspern in 1979. The new facility, which will be put into operation in 2021, will produce biopharmaceuticals in the future with the help of cell cultures.
"This investment comprises a sustainable commitment of the management which secures the Vienna site for decades", says Philipp von Lattorff, Managing Director of Boehringer Ingelheim Regional Center Vienna. Up until now, Boehringer Ingelheim has produced drugs in the Austrian capital with the help of yeasts and bacteria. The new cell culture facility is a response on the part of the company to fast growing demand for biopharmaceutical drugs. As one of the world's leading contract manufacturers in this sector, the project will help us further strengthen our market position", explains Wolfgang Baiker, Global Head of Biopharmaceuticals and Production at Boehringer Ingelheim.
About the Boehringer Ingelheim Regional Center Vienna
The Boehringer Ingelheim Regional Center Vienna is responsible for the Boehringer Ingelheim business with prescription medications and veterinary medicines in Austria as well as in more than 30 countries in Central and Eastern Europe, Central Asia, Switzerland and Israel. In addition, all of the clinical research in the region is managed from Vienna. Vienna is the center of cancer research as well as where the Group's biopharmaceutical research, development and production takes place. Boehringer Ingelheim is also involved in basic research at the Research Institute of Molecular Pathology (IMP) in Vienna. Boehringer Ingelheim thus ranks among the most research-intensive pharmaceutical companies in Austria. In fiscal year 2016, the Regional Center Vienna achieved total sales of EUR 821.5 million and employed 3,470 people in Central and Eastern Europe, including 1,629 in Austria. Thanks to the new production facility, the number of employees will increase to about 2,100 in the coming years.