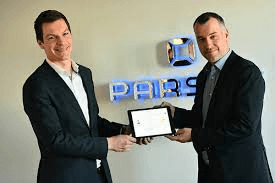 © Parsek
The company will use the new capital to further build out its technology platform and to expand its sales and business development activities in the EMEA region. Company's new office in Austria will serve as a gateway to the DACH region (Germany, Austria, Switzerland).
Designed with a user-centric approach and leveraging the know-how of the physicians Parsek's main product Vitaly (www.vitaly-portal.com) offers an enterprise-grade patient engagement platform that provides intuitive, secure online access to structured clinical data, as well as collaboration and integration functionality to various healthcare delivery stakeholders. Through its set of configurable modules Vitaly offers a broad range of functionalities such as access to and management of electronic patient records, medical appointments, digital communication with physicians and caregivers, remote patient monitoring, e-Prescriptions, video visits, care plans, questionnaires, and advanced analytics.
"Parsek is a solid, well-managed technology company with great potential. Company's innovative platform helps healthcare stakeholders improve their interactions with clients and patients, digitize processes, lower costs, increase efficiency and boost competitiveness, while providing a more holistic and connected patient journey. We look forward to working with the company and actively supporting its further growth." commented Svetoslav Stefanov, Investment Director at 3TS Capital Partners.
"Our mission is to enhance people's well-being through efficient, user-friendly and integrated collaboration in the health and care ecosystems. Vitaly Health Portal helps with digital transformation for health insurers and healthcare service providers while enabling them to deliver more accessible services. Our new office in Vienna fulfills all the requirements needed to expand our business and will help accelerate our growth in the DACH and other Western European markets. We're thrilled about the current investment, and are looking forward to an active partnership with 3TS" said Janez Bensa, Parsek CEO.
About Parsek
Parsek is a Healthcare IT specialist, which provides collaboration and integration platforms and solutions to various stakeholders in the health and care markets. Its enterprise-grade collaboration and integration platform Vitaly, connects physicians, hospitals, post-care institutions, rehabilitation centers, health insurers, service providers, and of course patients. Parsek serves its clients across the EMEA region with its offices in Vienna, Austria and in Ljubljana, Slovenia.
About 3TS Capital Partners
3TS Capital Partners is one of the leading European technology focused private equity and venture capital firms. 3TS provides expansion capital and buyout funding for small and medium-sized businesses in growth sectors including Technology & Internet, Media & Communications and Technology Enabled Services. Investors in the current and past 3TS funds totaling over €300 million include EIF, EBRD, Cisco, OTP, Sitra, 3i and KfW among others.
More information: www.parsek.com