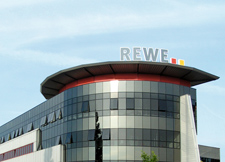 © REWE International
30% of total revenue of the German Rewe Group is generated by Rewe International, which not only encompasses the business in Austria but also the subsidiaries in Eastern Europe and Italy.
Revenue in Bulgaria, Croatia, Russia, Slovakia, Czech Republic and Ukraine climbed by 7.18% in 2016. The Group modernized close to 50 stores in Eastern Europe in 2016, and opened 50 new shops in the region.
Rewe is the largest food retailer in Austria with a market share of 35.3%, employing more than 42,000 people. At present Rewe is training about 1,700 apprentices.