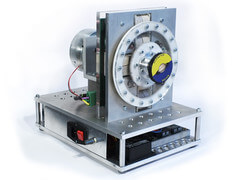 © Technical University Vienna
Usually, motor and gearbox are two separate functional units. Researchers at the Vienna University of Technology have now developed a novel motor concept, which enables the integration of these two components. Instead of a single rotor, four mechanically linked rotors are used. Thereby, a so-called "planet motor" comes into existence, which is characterized by its high-power density, energy efficiency, simplicity of use and failure safety. This globally unique motor was presented for the first time by the Vienna University of Technology at the trade fair in Hannover (Hannover Messe).

Just because there are several rotors at work does not mean that motor control becomes more complicated: From the outside, the planet motor is regulated and powered in the same way as a conventional synchronous motor. Another advantage of the new motor has already been integrated i.e. it does not contain any fault-prone sensors. Years ago, Manfred Schrödl already attracted attention with a synchronous motor, which operates without sensors. In this case the rotor's actual position does not have to be measured with specific sensors anymore, but can be calculated from the actual current and voltage values in the power cable. This sensorless technology has been used successfully in practice thousands of times.  

The new planet motor is suitable for application in many areas. It is extremely useful not only in electric vehicles, but also in the area of machine tools as well as lifting and production technology. Finally, the electric planet motor developed at the Vienna University of Technologs is optimally suited to safety-critical and high performance operations.