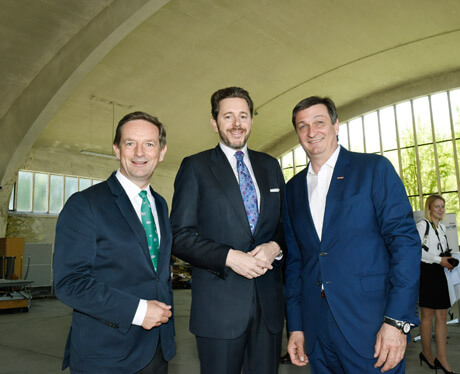 © BMWFW/Walter Fritz
The first four such innovation labs will commence operations in Vienna (Factory Hub Vienna), Linz (CAP.fabricc), Wattens (Innovation Campus) and Klagenfurt (MAKERSPACE Carinthia). Products and projects are to be jointly developed and prototypes are to be built in the four new "hands-on" labs.
These "hands-on" labs will be established as visible, physical rooms with open access, aiming to address and attract new user groups and networking with various regional players. The Austrian Research Promotion Agency FFG will supervise the program on behalf of the Ministry of Science, Research and Economy.
The innovation labs will be set up for a period of five years. Up to 50% of the proposed costs will be funded, but not more than EUR 1 million per innovation lab. The remaining financxing has to be secured by the project organizers. The four funded innovation labs:  
The CAP.fabricc in Linz is conceived as an innovation lab with access for the general public and is designed to complement existing regional innovation activities. With the help of a cross-fertilization approach, new impetus is to be provided to Upper Austria to strengthen innovation and awareness building and stimulate interest in technical and innovative issues. The networking of different user groups (pupils, students, startups, SMEs, educators) and the targeted build-up of an innovation community promotes interdisciplinary work and mutual support in further developing sills. In this way innovation processes will be initiated to ultimately increase the attractiveness of Upper Austria as a business location.
The Factory Hub Vienna in the city's 23rd district supports the niche of hardware startups in developing and producing electronic products. Hardware startups face special challenges when trying to commercialize their ideas and prototypes. A lot of time and money already has to be invested in development and products. Individual design errors can have massive consequences. Although the paradigm prevails that electronic manufacturing takes place at more favourable terms and conditions abroad, a growing number of hardware startups are returning to Austria as their preferred manufacturing location. The important thing is to prepare for production when the startup is already in the midst of product development in order to ensure a more cost-effective and quicker market entry.
The Innovation Campus in Wattens enables a broader public, young and established companies as well as pupils and students to implement their ideas and development projects in a collaborative manner on the basis of an advanced technical infrastructure and a target group-specific program offering (technical support services, events). New projects are initiated and carried out in the region on the basis of this facility and by the networking of the regional and supra-regional innovation community. 
MAKERSPACE Carinthia in Klagenfurt plans the development and operation of infrastructure including mentoring to support innovation projects through prototypes. Innovative projects, especially from SMEs and companies in the startup phase, are to be supported by using existing premises (incl. structural modifications) and mechanical infrastructure both on a local level and on the part of project partners. The focus is on the development and production of all types of prototypes as quickly as possible (from a drawing, pattern, plastic component or assembly unit) by the respective entrepreneur himself or herself or under supervision. At the same time, the innovation lab is designed to make digitalization and networking possibilities learnable and tangible.