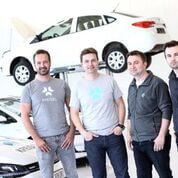 © Kreisel Electric
The new site, covering an area of close to 7,000 m2, includes a prototype workshop and a fully automated production line for Kreisel Electric storage devices used in equipping small-scale series of passenger cars, trucks, buses, boats and aircraft as well as storage solutions. The new facility, which will employ a staff of more than 200 employees starting in 2018, is designed to help accelerate Kreisel Electric's growth path and expand its international business in the field of e-mobility.
In the future, Kreisel Electric will be supported by Patrick Knapp-Schwarzenegger, the Los Angeles-based nephew of former California Governor Arnold Schwarzenegger. He is the head of a group of strategic partners which acquired a stake in Kreisel Electric through the American company Clean Machine Inc.
The passion for speed and electromobility was the driving force behind the business operations of the three Kreisel brothers from Upper Austria. They have been developing the world's lightest and most efficient high-performance batteries for electromobility since the year 2014. The range of solutions implemented with business partners encompasses electric carts, e-rollers, e-bikes, passenger carts, buses, ships and airplanes.
Frost & Sullivan honored the company in July 2017 for having the world's best battery technology.