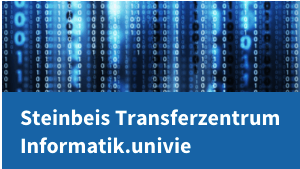 © University of Vienna
Steinbeis is a research transfer initiative founded in Germany which has already been very successful internationally. The Steinbeis Foundation works with a global network of 6,000 experts. Digital transformation and innovation are at the core of STZ Informatik.univie. In order to address the burning issues for the future of the digital transformation in cooperation with partners, the focus is on the innovation cycle between the university and business/industry.
The new center at the University of Vienna will not only provide support to researchers and students in launching their developments on the marketplace. Company can also turn to the computer scientists of the university if they have specific problems via STZ Informatik.univie. The spectrum ranges from consulting services to specific solutions, for example questions on blockchain technology.