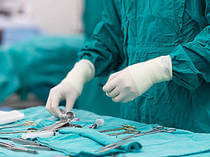 © CCC/Medical University of Vienna
The problems caused by the swelling can range from severe pain or skin infections right through to loss of limb function and they detract greatly from a patient's quality of life. The conventional forms of treatment are only partially effective and the results temporary. Researchers at the Comprehensive Cancer Center (CCC) at the Medical University of Vienna and Vienna General Hospital are now refining two innovative techniques for the effective treatment of lymphoedema.
Surgical reconstruction of damaged lymph vessels is challenging, because they can be less than 0.7 mm in size and cannot be sutured using conventional methods. However, new developments in so-called supermicrosurgery mean that it is now possible to make surgical sutures measuring just 0.3 – 0.8 mm. This requires high-performance microscopes and the use of fluorescent liquid and fluorescence cameras. Current estimates say that about 200 million patients around the world suffer from lymphoedema.