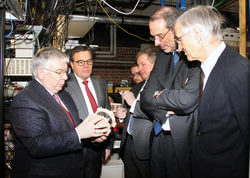 © University of Innsbruck
The objective of the company founded by the Innsbruck-based quantum physicists Rainer Blatt, Peter Zoller and Thomas Monz is construction of a commercial quantum computer. The funds should further promote and make use of the established research direction for quantum technology and continually strengthen Austria's top position in the field of quantum research.
Research has already been carried out for ten years now at the University of Innsbruck and the Institute for Quantum Optics and Quantum Information (IQOQI) of the Academy of Sciences (ÖAW). The spin-off is designed to make the developed ideas commercially viable and also develop new products. Quantum technologies ranks among the key technologies of the 21st century and have increasing potential for applications in the economy and society, for example in the field of secure information transmission, improved medical diagnostics or precise weather forecasts. Recent studies forecast a market volume of about EUR 1 billion for quantum computers, with annual growth rates of between 20-35%.