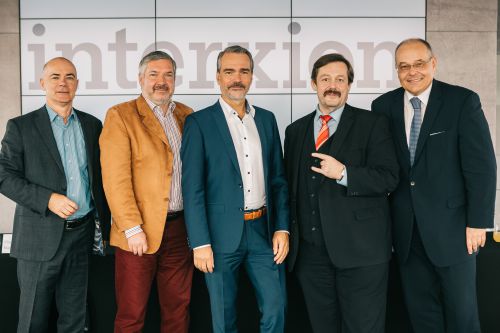 © Philipp Lipiarski
Further investments of EUR 40 million are planned. More than 3,000 m² of additional space is under construction and will be put into operation by the middle of 2019. The official opening of the current extension was celebrated on Thursday and moderated by the famous physicist Werner Gruber. The expansion of the campus which has grown to cover an area of 10,000 m² is of essential importance to the national economy and Austria as an IT location. This is because high-performance computer centers comprise the fundamental building blocks for the digital infrastructure as well as the success of new technologies and concepts such as artificial intelligence, the Internet of Things and big data analytics. Not only will national requirements be covered by the expansion project, but the Vienna business location will be further strengthened in its role as an important gateway for Central and Eastern Europe.
Data interface in the heart of Europe
Prominent guests provided a closer look at future investments and the expanded data center. Martin Madlo, Managing Director, Interxion Austria, Deputy Chief Magistrate Wolfgang Müller, Harald Leitenmüller, CTO of Microsoft Austria, Christian Panigl, Head of ACOnet & Vienna Internet eXchange (VIX) as well as the well-known physicist Werner Gruber spoke about the innermost core of the computer center, the triumphal advance of the cloud and the data-driven future which will decisively stimulate domestic economic output thanks to performance and connectivity.