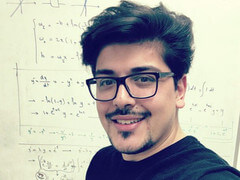 © Vienna University of Technology
Ramin Hasani of the Institute for Computer Engineering has developed a new approach for programming neural networks which models the time evolution of the nerve signals in a completely different way and which achieves astonishing results with relatively little effort. The researcher was inspired by a particularly simple and well-researched creature, the roundworm C. elegans. Neural circuits from its nervous system were simulated on the computer, and then the model was adapted with machine learning algorithms. In this way, it was possible to solve remarkable tasks with an extremely low number of simulated nerve cells. Even though the worm-inspired network only consists of twelve neurons, it can be trained to steer a motor vehicle to drive by a previously defined place. Ramin Hasani presented his work at the TEDx conference in Vienna at the end of October.
Together with his colleagues, he proposed a novel RNN (recurrent neural networks) architecture based on a biophysical neuron and synapse model that allows time-varying dynamics. Allowing cell activities and links between cells to vary over time opens up completely new possibilities. Artificial intelligence can be much more powerful than previously thought if it has been equipped with the right architecture.