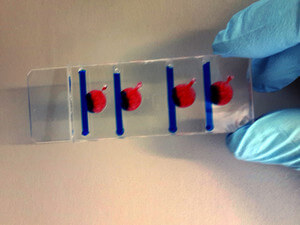 © Technical University Vienna
Biologically vital transport processes, for example involving oxygen, sugar and other substances into the tissue have still not been completely researched up until now. This situation should now change thanks to a new approach to the problem. At the Vienna University of Technology, tissue is being grown on the biochip, so-called "organs-on-a-chip.". This allows for the precise control and measurement of complicated biological processes – much better than would be possible in animal testing or by experimenting on humans. The researchers make use of the body's natural wound healing processes. With biochip technology, it is now possible to regulate the substances with which the human vascular cells are supplied with great precision. This makes it possible to cultivate and study human cells over the course of several weeks.
A tiny influx pipe, through which the tissue is supplied with oxygen and nutrients from outside, passes through the tissue next to this newly formed network of fine blood capillaries – it is the "artificial artery" of the biochip. The fine, naturally-grown blood vessels are not directly connected to this artificial conduit, but the boundaries between the two areas are not densely sealed off, so that there is a permanent exchange of substances. "This is a situation that plays an important role in medicine. On the one hand, when it comes to wound healing, but on the other hand, also in diseases such as cancer," states Peter Ertl, professor at the Vienna University of Technology.