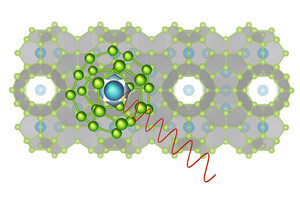 © Vienna University of Technology
Such materials can be used to convert waste heat into electrical energy. The objective of the research is to find materials which are good electrical conductors but bad thermal conductors. Materials with a cage-like structure have proved to be particularly promising, for example clathrates being studied at the Vienna University of Technology. "Clathrates are crystals with a very special structure," explains Professor Silke Bühler-Paschen from the Institute of Solid State Physics at the Vienna University of Technology. "Their crystal lattice contains tiny cages in which individual atoms are locked up." Such an atom can oscillate back and forth in its single cell, without being firmly embedded in the crystal lattice.

Heat in a solid is nothing else than vibrations of its atoms. When a crystal is heated, the vibrations get stronger until, at some point, the bonds between the atoms are broken and the crystal melts. "There are two types of vibrations," says Silke Bühler-Paschen. "If neighboring atoms are strongly bound together, then the vibration of one atom can be directly transferred to its neighbors and a heat wave spreads through the material. The stronger the coupling between the atoms, the faster the propagation of the wave and the greater the heat conduction. However, if an atom is only very weakly bound to its neighbors, just like the atom sitting in the clathrate cage, then it is largely independent of the others and the heat wave is extremely slow." A previously unknown physical effect was demonstrated at the Vienna University of Technology, which suppresses thermal conductivity. It is called Kondo-like phonon scattering. Due to the crystal structure, an atom in the clathrate cage vibrates preferentially in two specific directions. When a heat wave arrives, it can enter a kind of bound state with such a vibration for a short time. The heat wave changes the oscillation direction of the atom in the clathrate cage. This process slows down the heat wave, and so the heat conductivity is decreased. Even though clathrates conduct electricity, they are good thermal insulators.