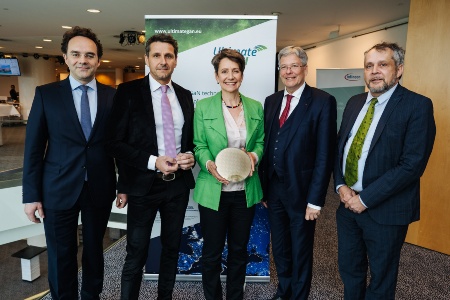 © Infineon Technologies Austria
Over the next three years, 26 partners from nine countries will carry out research on the next generation of energy-saving chips based on the new semiconductor material gallium nitride (GaN). The aim is to make this power semiconductor available for a large number of applications at globally competitive costs. In this way, the project will make an important contribution towards enhanced energy efficiency and reduction of CO2 emissions. UltimateGaN ranks among Europe's largest research projects, featuring investments of EUR 48 million.
Global energy consumption is rising. A growing number of applications in daily life are becoming digitized and electric-powered vehicles are increasingly entering the mass market. Energy-saving chips made of new materials such as gallium nitride are playing a decisive role in converting electricity much more efficiently than in the past. This enables energy consumption to be reduced and the CO2 footprint to be minimized. Infineon Austria contributes its existing know-how to the project in its role as the Group-wide competence center for the new semiconductor materials silicon carbide and gallium nitride. The prerequisites for this were created in 2018 with the conclusion of the "PowerBase" research project in Villach. "Energy efficiency is one of the biggest energy resources around the world. With the development of intelligent technologies, we are making a key contribution to dealing with the global challenge of climate change. New materials and efficient chip solutions are playing a decisive role. This research project allows us to establish the preconditions for many future-relevant everyday applications", said Sabine Herlitschka, Chief Executive Officer of Infineon Technologies Austria AG.