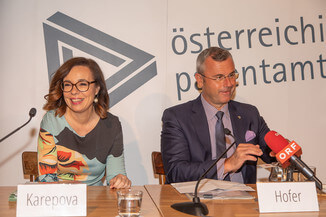 © Austrian Patent Office/APA-Fotoservice/Tanzer
On balance, Austria ranks a good 11th worldwide in terms of patent applications. South Korea is number one in the rankings, followed by Japan, Switzerland, USA and Germany. Austria placed sixth in the EU, behind Germany, Denmark, France, Sweden and the Netherlands.
2,744 patent applications were submitted to the Austrian Patent Office last year, and 1,710 inventions were patented. As in previous years, Upper Austria accounted for the largest number or 583 applications, followed by Styria (479) and Vienna (441). Engine developer AVL List was the top company (182 invention registrations), ahead of fittings manufacturer Julius Blum (67) and Tridonic, supplier of intelligent light solutions (53). The Vienna University of Technology, the first academic institution in the ranking, was seventh on the list with 33 applications.