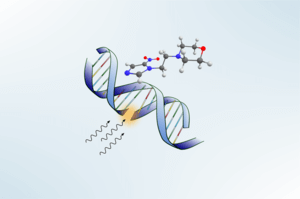 © Rebecca Meissner, University of Innsbruck
Researchers at the University of Innsbruck observed that slow electrons from nimorazole molecules are trapped in an extremely effective manner. These results can serve as an explanation for the selective effect of the active ingredient already applied in radiotherapy. At the beginning of the 19th century, the Viennese radiologist Gottwald Schwarz already realized that the oxygen in cells required for their survival also promotes damage done to them as a consequence of radiotherapy. Due to this property, a paradoxical situation arises for fighting cancerous tumours in radiotherapy. This is due to the fact that tumours form areas with a pronounced oxygen shortage as a result of their uninhibited growth. However, due to the lack of oxygen, these regions respond less to the radiation than healthy tissue does.
In order to counteract this effect, different molecules are being tested in the field of cancer medicine which are designed to imitate the effect of oxygen in tumours suffering from a low oxygen level. One molecule which has been successfully tested in clinical studies is the nimorazole molecule. "The experiments with individual molecules show that nimorazole trap slow electrons in an extremely efficient manner. The molecule is also subsequently characterized by a high level of stability by remaining intact", says first author Rebecca Meißner in the study published in the scientific journal Nature Communications.