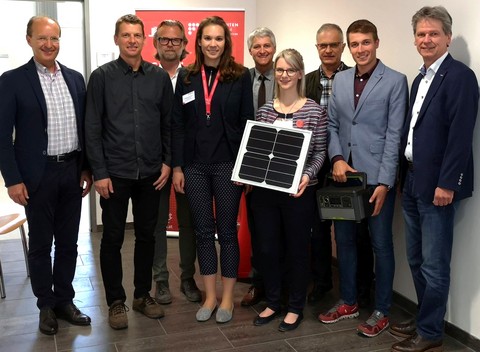 © SIZ Kärnten
This charging case containing electricity generated by solar energy should provide up to twelve hours of electricity. The electricity charging case is as large as a car battery and is charged with a solar panel attached to it so that it is ready in case of emergency. Even after being charged, the battery has sufficient energy after one year to supply energy for the basic necessities to a household for ten to twelve hours. The innovative component was developed by the Carinthian Civil Defence Association. The electricity charging case should soon be available on the marketplace and will cost EUR 800-900 including the solar panel.
The electricity charging case can be recharged again and again, It takes three hours of sunlight to fully charge it, whereas it will require up to six hours on cloudy days. "The company Kärnten Solar is now further developing the project", said Managing Director Michael Jaindl. "The primary intended purpose is to provide electricity in a crisis situation. We are not talking about ensuring a fully supply, but that in principle, the necessary procedures in a building can be maintained i.e. heating control, circulation pump, possibly coffee machines and mobile phones and even a minimum amount of lighting." The Spittal Secondary School for Economic Professions participated in the implementation of the idea of an electricity charging case. They are writing a diploma thesis with the support of solar experts.
Read more about the secure supply of electrical energy in Austria.