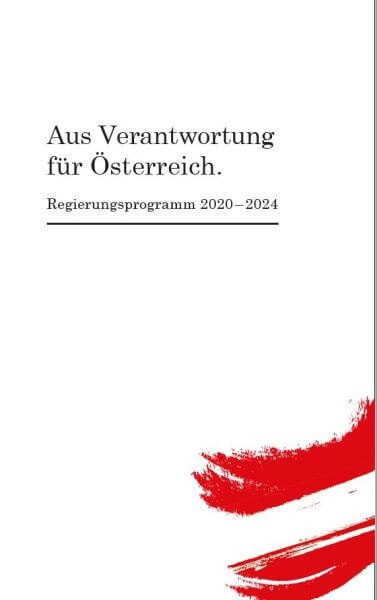 Tax reform:
The underlying objective of the tax reform measures is threefold: first, to reduce the ratio of taxes and levies as close to 40% as possible; second, to implement an ecologically and socially compatible reform including incentive effects to successfully combat climate change, and third, to maintain and enhance the innovative strength, sustainability and competitiveness of the Austrian economy.
The corporate tax on profits will be cut from the current level of 25 percent to 21 percent in the future. Personal taxes on wages and income will be reduced from 25 to 20 percent, from 35 to 30 percent and from 42 to 40 percent respectively.
The Austrian Federal Government confirms its goal of balancing the federal budget as well as decreasing the ratio of the national debt to meet the EU's stipulated target of a debt to GDP ratio below 60 percent.

Less bureaucracy:
Implement the once-only principle for companies in order to streamline data reporting between companies and the public administration. All relevant corporate data should only have to be communicated once to administrative authorities and be subsequently automatically retrievable for all the various administrative steps. All data protection standards should be complied with while maintaining data density and data quality.
The principle of advising before handing out punishments will be implemented. The goal of the public administration will continue to be to punish wrongdoing. However, in the best-case scenario, this should not be allowed to take place at all if companies are supported in operating according to the rules.
Furthermore, application procedures will be simplified, and processes will be streamlined. Planning reliability is to be ensured and the red tape related to public sector funding should be cut (e.g. decisions on funding applications within specified periods of time, objective efficiency goals, cooperation of federal and state governments in funding procedures).

Modernisation:
The attractiveness of the dual education system will be enhanced, for example by requiring an evaluation and modernisation of all apprenticeship occupations every five years. Moreover, it is important to ensure up-to-date education by introducing new apprenticeship occupations (e.g. in the fields of digitalisation or climate/environment protection).

Research:
An ambitious FTI (Research, Technology and Innovation) Strategy 2030 will be developed. Starting with an analysis of the status quo and current challenges the objectives of the country's research, technology and innovation policy for the next ten years will be determined and fields of action for implementing these targets will be defined.
A growth path is to be stipulated on the basis of this FTI strategy, providing research funding and non-university research with financing and planning reliability over a period of several years. At the same time, the management and financing system of the institutions will be standardised and simplified.
Digitalisation and innovation:
A comprehensive, technology-neutral broadband supply will be ensured throughout Austria.
The goal for 2030 is to ensure the nationwide supply of fixed-line and mobile gigabyte connections and prevent the emergence of a digital gap between urban and rural areas. The country's pioneering role in 5G will be expanded, and applications for new technologies (autonomous driving, Internet of Things etc.) will be pursued in collaboration with telecommunications providers.

Download the complete Government Program.