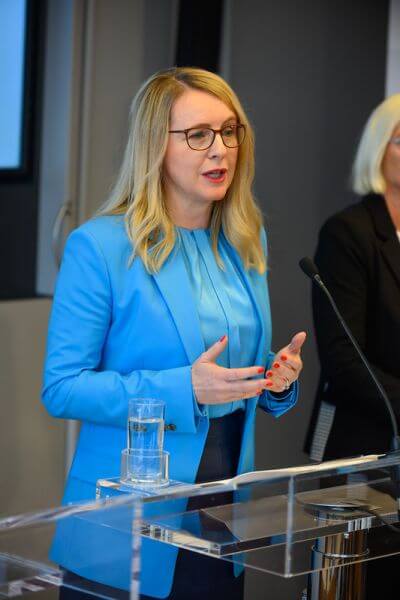 © BMDW/Hartberger
The Austrian Research Promotion Agency (Forschungsförderungsgesellschaft FFG) will process applications. The call for tender for qualifications commenced on 12 May 2020. There will be short and intensive "boot camps" to strengthen the digital competencies of employees. An additional EUR 2 million has been made available to enhance equal opportunity in the field of digitalisation (Laura Bassi 4.0). The tenders for all programmes are already underway.
The funding programme in detail
(1) Research competencies for the economy: Enables companies to take advantage of customised qualification offerings. The focus is on the fields of e-commerce, cyber-security and smart factory. The Federal Ministry for Digital and Economic Affairs (BMDW) makes more than EUR 5 million in funding available. EUR 4.1 million is for the programme line "qualification networks" (5th tender) and EUR 1 million for "Qualification seminars with an educational bonus" (7th tender).

(2) Digital Pro Boot Camps: For the targeted strengthening of digital competencies in companies focusing on the fields of e-commerce, cyber-security and smart factory. About EUR 1 million is available for what is now the 2nd tender.

(3) Laura Bassi 4.0: Designed to ensure equal opportunity in digitalisation, based on EUR 2 million in funding for the 2nd tender. The programme particularly targets SMEs aiming to make a contribution towards shaping an equitable digital future.