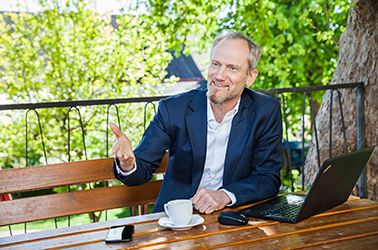 © Careforce Sanvartis
The German Careforce Sanvartis Group, the sales and communications specialist in the healthcare sector, has opened up an office in Austria. It now offers its service portfolio in Austria in addition to Germany and Switzerland. Careforce Sanvartis has already been serving customers in the DACH region for many years. The setting up of business operations in Austria represents the "systematic further development of country-specific expertise".
Siegfried Swoboda has been in charge of offering services of the Careforce Sanvartis Group in Austria since the beginning of the year. The nutritionist and graduate biotechnologist and food technologist boasts more than 20 years of experience in the pharmaceutical industry. His areas of responsibility include optimal customer service and the further development of patient care and support programmes through sales force activities of Careforce Sanvartis Austria. The new subsidiary covers the entire service portfolio of the Careforce Sanvartis Group but adapted to the requirements of the Austrian healthcare industry.
The Careforce Sanvartis Group employs a staff of 1,200 people at five facilities in Cologne, Duisburg, Berlin, Cham (Switzerland) and Vienna and has 20 years of experience as one of the largest suppliers of medical sales and communications services in the field of healthcare. The service portfolio encompasses a broad spectrum of sales solutions in the fields of recruitment, personnel leasing, direct letting, executive search and communications services such as telesales, medical information and patient care programmes. Longstanding customers include internationally operating groups as well as medium-sized companies in the pharmaceutical and medical devices industry.
Read more here about the life sciences sector in Austria.