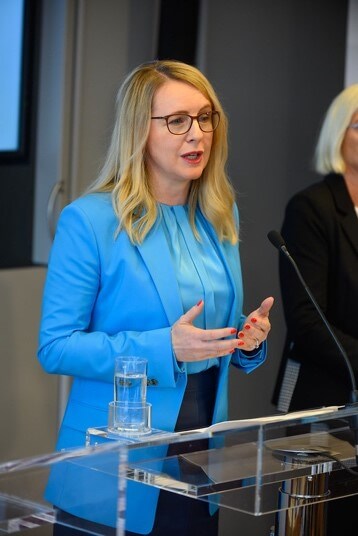 © BMDW/Hartberger
Companies should be provided with further support during the economic crisis via an investment grant and the possibility for loss carrybacks, according to Margarete Schramböck, Federal Minister for Digital and Economic Affairs. An investment premium (investment subsidy) of 14 percent should be granted to those companies making investments over the next six months. In this regard, an investment premium of 14 percent is to be granted to those companies making investments in digitalization, life sciences or healthcare over the next six months. The minister believes an investment premium of 20 percent would be ideal. This premium should be paid in cash and should be distributed regardless of a company's size. In addition, the loss carrybacks are designed to enable companies to offset losses this year with profits reported for 2019 and 2018. This comprises another way in which the government will provide assistance to companies.
At the same time, the Austrian Federal Government announced degressive depreciation options. This means it will be possible to depreciate 30 percent of investments right at the beginning. This type of depreciation will be introduced for an indefinite period of time. This will reduce the basic tax rate on income and wages from 25 percent to 20 percent and thus stimulate consumption.
Read more here about aid measures for companies affected by the coronavirus.