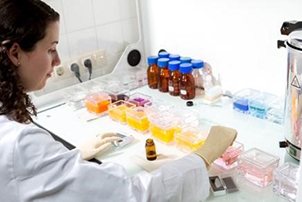 © Medical University of Vienna
The Viennese company Apeiron Biologics AG is making use of a capital increase to further develop its COVID-19 and cell therapy pipeline. More specifically, it is examining the effectiveness of its drug candidate APN01 on patients who are seriously ill with COVID-19. This drug is designed to block the virus and protect the patients from respiratory failure. According to Apeiron, the financing is for future clinical studies as well as the availability of materials for treating COVID-19 patients. 200 ventilated patients are being treated with APNO1 within the context of phase II clinical studies which are already being conducted. The primary objective of the study is to investigate the clinical effectiveness of APN01 as well as the safety and tolerability of PNO1 in this patient population. The company believes an accelerated approval of the drug is conceivable if these goals are met.
APN01 is a recombinant form of ACE2 which blocks the binding of the virus on the basis of competitive binding on the viral spike protein and also has an anti-inflammatory effect. The product candidate was developed by the company founded by Josef Penninger especially for the treatment of acute lung injury (ALI) and acute respiratory distress syndrome (ARDS).
Read more here about COVID-19 research in Austria.