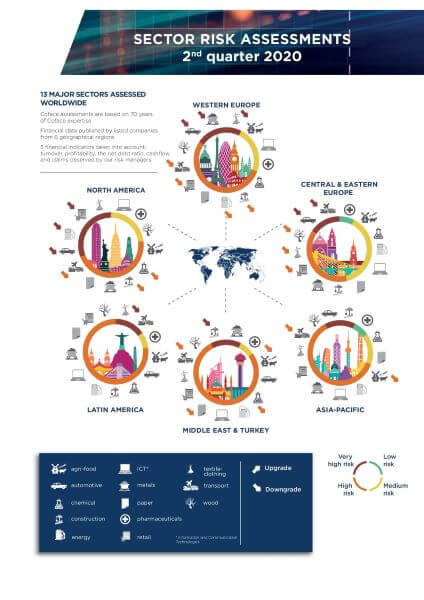 © Coface
For the first time, the credit insurer Coface downgraded the rating of a total of 71 out of 162 countries and 134 sectors in 28 countries. Austria is one of the few countries which retained its A2 rating. Germany was downgraded to A3 by the economists. "Many countries have already begun ramping up their economies. The recovery phase follows the coronavirus earthquake. This differs from country to country. In particular, Austria seems stable in comparison to other European countries", explains Declan Daly, Regional CEO of Coface for Central and Eastern Europe. The Coface country and sector risk assessments are compiled on a quarterly basis. The classification stands for potential loss of receivables and bankruptcies in a country.
On balance, Coface expects global economic output to decline by 4.4 percent from the prior-year level. In spite of the anticipated recovery in 2021 (+5.1%) - assuming that a second wave of the coronavirus pandemic does not materialise - GDP in the United States, the eurozone, Japan and the UK will remain two to five percentage points lower than the comparable level of 2019. "From today's perspective we assume that Austrian GDP will fall by 5.2 percent. At the moment, it looks as if it will climb again by 4.8 percent in 2021", Daly adds.
Read more here about Austria as a business location.