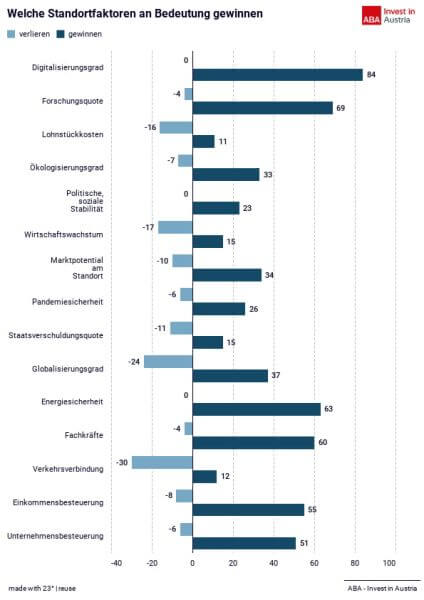 © ABA - Invest in Austria
A recent survey shows that companies expect a relocation of strategically important goods and economic sectors back to Europe. In a study contracted by ABA – Invest in Austria, two-thirds (66 percent) of the managers interviewed state that they expect a review of international work distribution and a dismantling of globalised supply and value chains. Two-thirds of the interviewees are also convinced that Europe will gain in importance as a production location. Accordingly, the majority of the business leaders (71 percent) anticipate increased investments in European manufacturing.
95 percent of the managers from the DACH region already regard Austria today as a business location of the future. "Europe now has the opportunity to become increasingly significant as a production site. In addition to a reasonable cost structure, the availability of qualified employees is particularly important. A business-oriented educational system is decisive in this respect. Austria is a step ahead thanks to its tertiary educational system. Vocational and higher technical schools train highly qualified technical professionals, who are definitely less expensive to employ than university graduates. For this reason, we also expect to be able to profit from the partial relocation of production", ABA Managing Director René Siegl says.
Read more about the location issues of education in Austria and business promotion programmes in Austria.