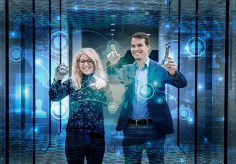 © dieindustrie.at/Mathias Kniepeiss
This is the conclusion of the recently published "eGovernment Benchmark 2020" of the European Commission. The Alpine Republic was given a top ranking thanks to its focus on digitalising the country's public administration. Austria was rated third overall together with Latvia among 36 countries under examination. Accordingly, Austria is positioned as one of the top three countries in Europe alongside Malta (1st) and Estonia (2nd). Austria is even rated first among the DACH countries, which includes Germany and Switzerland. "The development and expansion of digital services on austria.gv.at, on the App "Digitales Amt" and the corporate service portal USP in the last year and thus our path towards a mobile government illustrate the success indicated by a bronze medal for Austria", says Margarete Schramböck, Federal Minister for Digital and Economic Affairs.
With an overall grade of 96 percent of the highest possible assessment, Austria is particularly well positioned in the top-level benchmark of user centredness. In particular, Austria improved by 23 percent in the area of mobile friendliness. In the future, the App in Austria will be promoted even more, and the consistent responsive design of the Web pages should be further pursued. The individual indicators relating to the benchmark of transparency (82 percent) also showed an upward trend. Austria managed to significantly catch up in recent years with respect to the field of cross-border mobility i.e. the accessibility of online services from abroad, and now places third in an EU-wide comparison. Austria aims to press ahead with the expansion of its digital and multilingual provision of services to ensure the user friendliness of cross-border services for companies. The benchmark of key technological enablers for online service processing showed a stable high level of 89 percent achieved by Austria's eGovernment activities.
Find out more regarding digitalisation in Austria.