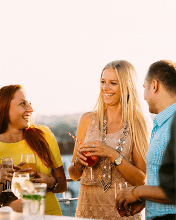 © InterNations
This is shown by a recently published survey of the expat platform InterNations. In a country comparison, Austria was rated fourth among 60 nations which were evaluated. In particular, Austria was in the forefront with respect to the "availability of green products and services". 90 percent of the expats rated this factor as positive. In general, the European countries achieved the best grades in the "Environment & Sustainability Report", which was published for the first time. Finland was ranked first, ahead of Sweden, Norway, Austria and Switzerland, according to the expats. In contrast, India was given the worst rating, followed by Kuwait, Egypt, Indonesia and Vietnam, which placed 56th. The USA was ranked 30th overall.
On balance, the participants were asked about eight different factors, including air quality, their opinion as to whether the government of the country is pursuing environmentally friendly policies, and how much the population is interesting in environmental issues. The category "Products and Energy Supply" was also a focal point of the survey. Austria was ranked third in this regard. All in all, more than 15,000 expats consisting of 173 nationalities living in 181 countries and territories across the globe took part in the survey, according to the Munich-based network InterNations.
Read on and find out everything about environmental research in Austria.