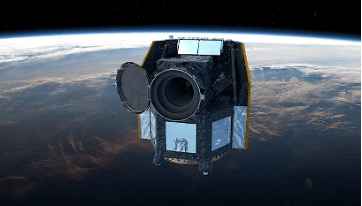 © ESA / ATG medialab
The focus is on one of the most extreme planets known to date. At the centre of the investigation is the exoplanet WASP-189b, one of the most extreme planets known to us. The planetary system WASP-189 is 322 light years away from the Earth. The centre is comprised of one of the hottest stars ever found around which a planetary system revolves. "The exciting thing about WASP-189b is that it involves a huge gas planet which orbits its host star in less than three days. In other words, it is 20 times closer to its star than the Earth is to the Sun", explains Monika Lendl, first author of the study. WASP-189b is about one and a half times bigger than Jupiter, the largest planet in our solar system. "CHEOPS enabled us to measure how bright the planet is and draw conclusions about its temperature, namely 3,200 degrees C. At this temperature, iron melts and turns to gas", Lendl adds.
"Due to the large distance, CHEOPS is not able to directly see its target object, but has to rely on indirect method", according to co-author Luca Fossati, who heads the exoplanet research group at the Space Research Institute IWF. Highly precise brightness measurements are used. "When a planet passes by its host star as seen from the Earth, the star appears to be darker for a short time." This phenomenon is one of the methods enabling the size of a planet to be calculated.
The satellite was built and developed by an international consortium led by the University of Bern and the European Space Agency ESA. Its main instrument is a telescope with a mirror diameter of 30 cm linked to an extremely sensitive camera. In addition to the Space Research Institute of the Austrian Academy of Sciences, the Institute for Astrophysics at the University of Vienna and RUAG Space Austria made key contributions to the success of the mission in the fields of hardware and software development and scientific planning.
The exoplanet space mission CHEOPS featuring Austrian participation was successfully launched into outer space in December 2019. This opened up a new era of measuring exoplanets i.e. planets revolving around faraway suns. A publication with data from the space telescope CHEOPS is already available only five months after the first observations. An international team which also includes the Graz-based Space Research Institute of the Austrian Academy of Sciences presents the initial results of the space telescope.
Read on and find out more about renowned research institutions in Austria.