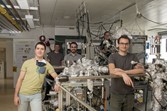 © TU Wien
Iridium oxide plays an important role in the field of electrochemistry. The material is an excellent catalyst and can be used, for example, for the production of energy carriers such as hydrogen from water. However, the arrangement of the atoms on its surface is completely different to that previously assumed. This was the conclusion of a study on human research and artificial intelligence jointly carried out by the Vienna University of Technology and the Technical University of Munich as published in the journal "Physical Review Letters".
"When a crystal grows slowly, it normally forms the surface that is most favourable in terms of energy," says Florian Kraushofer, who belongs to the research group led by Prof. Ulrike Diebold of the Institute for Applied Physics at the Vienna University of Technology. Not all possible atomic arrangements are stable though, and in some cases the atoms shift or rearrange on the surface to save energy. "One frequently needs to perform very complex simulations using a supercomputer to determine which geometric configuration is the most stable," Kraushofer explains. "In the case of iridium oxide, such calculations had shown that the most stable surface was formed in the so-called 110 direction. However, surprisingly our experiments came to a completely different conclusion."
A team led by Karsten Reuter of the Technical University of Munich also focused on iridium oxide by using artificial intelligence. "Just like the experiment, the machine learning algorithms had predicted the stable direction of the iridium oxide surface to be different from what was previously thought," Reuter says. Further investigations were then carried out, including more extensive computer simulations, and the results were the same.
"So now we have to rethink all previous results on iridium dioxide," says Ulrike Diebold. "The orientation of the surface plays a decisive role in the chemical and physical behaviour of the material."
For Diebold, the result is also important proof that new research methods in the field of machine learning can be extremely valuable for science, especially for materials research. "This will not replace human intelligence - just as it has not been able to replace us with computer simulations up to now," Diebold is convinced. "But machine learning algorithms will help us come up with good ideas that we would not necessarily have thought of ourselves."

Continue reading and find out more about research and development in Austria.