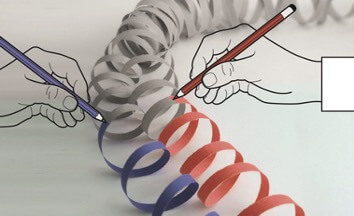 © IMBA
Scientists at the Institute for Molecular Biotechnology (IMBA) of the Austrian Academy of Sciences managed to do just that. The new method was published in the renowned scientific journal Nature. Up until now, it had not been possible to determine the spatial organisation of newly generated sister DNA molecules and to find the contact points between the two strands. In order to activate or suppress genomes, areas not immediately in the proximity of the DNA have to come into contact with each other. This is possible because the DNA folds in a targeted manner and organises itself so that certain passageways in the genomes come closely to each other spatially. The three-dimensional organisation of the DNA strands is also crucial in repair process. In this way, the damaged passageways in the genomes can be corrected, like with a backup copy.
The teams led by Daniel Gerlich and Stefan Ameres at IMBA along with Ronald Micura at the University of Innsbruck have now developed the new scsHi-C method (sister chromatid sensitive chromosome conformation capture), with which the spatial arrangement of the two replicated sister chromatid molecules in every chromosome can be mapped. "The two DNA strands are chemically marked in different ways. These markers can be easily captured by means of sequencing", explains Michael Mitter, a doctoral student at IMBA. This makes it possible for the researchers to determine contact points both within the DNA and also between the two copies. This enabled the researchers to determine the function of important molecules which fold and link the DNA and thus help to control the sophisticated 3D organisation of the genetic material.
"Thanks to the development of the scsHi-C technology, it is now possible for us to investigate previously unexplored issues, for example the spatial organisation of the genome in the repair processes of the genetic material", states IMBA group leader Daniel Gerlich.
Read on and find out more about life sciences research in Austria.