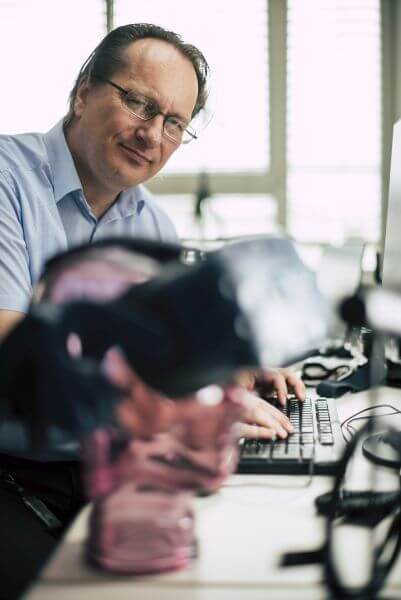 © Joanneum Research/Bergmann
The focus is on the human being, his behaviour, resilience and emotions. Newly developed technologies measuring data about human behaviour serve as the basis for creating digital systems which should optimally assist people in stressful situations. For example, this can be for the benefit of emergency services, employees as well as older and sick people. The team led by Lucas Paletta of DIGITAL, the Institute for Information and Communications Technologies at the research Joanneum Research is behind the innovative offering.

Researchers can determine the strain imposed by so-called stressors at the workplace by means of "wearables", which are small, networked computers worn on the body, for example data goggles. In turn, this can help optimise working conditions and prevent burnouts. Error rates can be reduced in manufacturing operations, thus improving the quality of production. One particular priority of the laboratory is to develop assistance systems for people affected by dementia as well as providing for them. Accordingly, the social robot AMIGO stimulates people with dementia to be more active and has met with a very positive response.

The possibility to analyse emergency personnel with respect to their stress factors is completely new. This can be measured on the basis of a simulated training, for example a virtual traffic accident. "The combination of digital biosensors, eye tracking and virtual worlds can meaningfully optimise the necessary situation awareness and also increase concentration and physical stress", says the human factors expert Lucas Paletta.
Read on and find out more about life sciences in Austria.