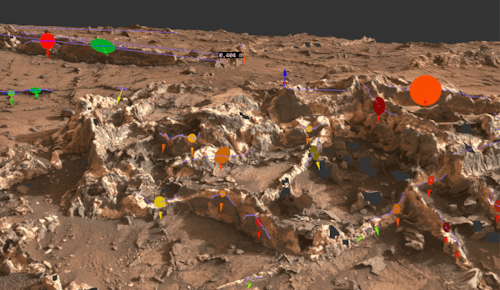 © VRVis
Space technology from Austria is also being used. Part of the mission is the visualisation tool PRo3D, developed by the research centres VRVis and Joanneum Research, enabling the virtual exploration of 3D reconstructions of the Martian surface.

The Mars 2020 Perseverance rover will search for signs of ancient microbial life. Perseverance will also test technologies that will pave the way for future human exploration of Mars. To that end, the Mars rover is equipped with seven scientific instruments. One of them is the Mastcam-Z camera system, the rover's "main eye." This highly innovative camera captures detailed images and data of the Martian surface. These images are sent back to Earth, where they are reconstructed into 3D terrain models by Joanneum Research and examined with PRo3D ("Planetary Robotics 3D Viewer"), the visualization tool of the VRVis Center for Virtual Reality and Visualization.

Using the tools integrated into PRo3D, NASA's planetary science team can measure and annotate 3D models of the Martian surface for geological and topographic features. This should provide valuable information to determine, for example, where the Mars rover should drill for rock samples in the future. A primary goal is also to create a 3D map of the Martian surface noting all measurements made by the seven rover instruments.
Continue reading and learn more about further use of Austrian space technology!