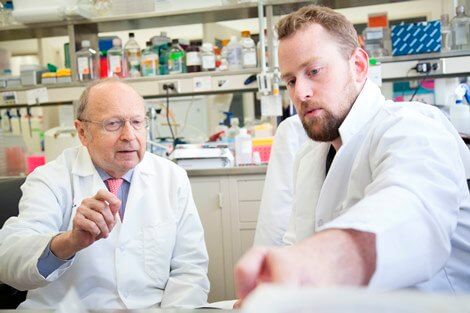 © Icahn School of Medicine at Mount Sinai
The vaccine should cost considerably less than one dollar per dose. The first clinical studies began recently and are taking place in Southeast Asia and Latin America. The scientists led by Peter Palese at the Icahn School of Medicine at Mount Sinai are convinced that its vaccine will be needed, especially in low- and middle-income countries.

Peter Palese, born in Linz, Austria, is Chair of the Departments of Microbiology at the Mount Sinai School of Medicine. In addition to his speciality in influenza viruses, on which he works in cooperation with the Austria virologist Florian Krammer, the scientists also gained experience with the coronavirus last year. Together with Kramer's working group and that of Adolfo Garcia-Sastre, Palese's team is focusing on the development of a vaccine. This comprises a viral vector-based vaccine in which part of the SARS-CoV-2 virus genetic material is introduced into the body via another virus. In this case, the researchers have used the Newcastle disease virus (NDV), which is primarily responsible for triggering the atypical avian influenza which is harmless to people.

In the initial studies, the vaccine showed a good immune response to the new coronavirus. Moreover, the vaccine can be administered through people's noses. This also makes it an interesting option to administer to children. The vaccine can be stored at a normal refrigerator temperature of two to four degrees Celsius.
Continue reading and learn more about life sciences research in Austria!